Have you ever wondered how certain companies carry out their work in such a smooth manner? Or what are the criteria they follow while working on the best projects? Well if you want to know about how the standards work then this is the right place for you to get the basics clear.
CAD standards are certain universal standards that are adhered to while creating CAD drafting and drawings. These are the standards that help in optimizing the creation of CAD drawings. It ensures an efficient and effective working process. CAD standards give rise to better coordination and consistency.
Not many companies take time in developing and documenting the standards and that is why they lag behind. Creating certain CAD standards is needed for the professional growth of the company. It benefits a variety of professionals in the company. Those are implemented in the works of architects, engineers, and contractors. It is required while creating the drawings, installation, and also while surveying.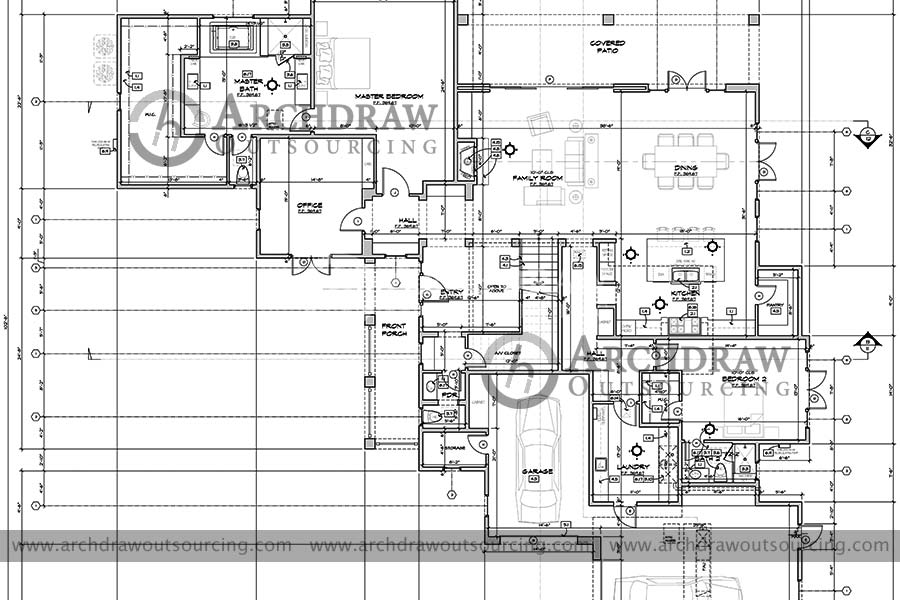 The CAD standard that is used in the architectural industry is the AEC standards. AEC stands for architecture, engineering, and construction. These are the three different facets of the industry that comprises the overall construction of the building. Forming a proper standard not only strengthens the process but also acts as a stepping stone towards the better execution of a project.
Formulation of CAD Standards
Forming a new standard has infinite possibilities. But putting out items that do not benefit an organization in growing, doesn't make sense. There can be a number of codes and practices to initiate a process. But first, let's get the basics clear so that if you are thinking of creating standards it can guide you where, to begin with.
CAD layer standards
All CAD drafting need layering to be big or small. The layer descriptions also form a part of it. Certain arrangements are formed for visibility, color, and other classifications. There are different types of layering codes that need to be followed while creating any kind of drawings. Different countries have different guidelines for this. Some of them are as follows:
AIA Cad Layer Guidelines
SIA 2014
BS 1192
ÖNORM A 6240-4
ISO 13567-⅓
Standards for file names
The CAD files are named according to a certain way. That particular way of naming files also comes under CAD standards.
The most commonly used one- BS 1192 : Discipline (1 char), Element (2 char, using SfB Table 1 or Uniclass), Drawing type (1 char, P=preliminary, X=special/xref, L=layout, C=component, S=schedules, A=assembly drawings, K=coordination drawing), Unique number (3 char), Revision (1 char, A=emission, B,C,D…= revisions). Samples: A22P012G.dwg (architect, internal walls in SfB, preliminary design, sheet 012, revision G).
AEC (UK) Project (unlimited char), Discipline (2 char max, recommended mandatory), Zone (optional), View (1 char, rec.mand.), Level (2 char, rec.mand.), Content (rec.mand.), Sequential number (up to 3 char); Samples: 1234-A-Off-P-M1-Furn-11c.dwg (project #1234, architect, office zone, plan, mezzanine 1, furniture, version 1.1 revision c), A-P-01-Part (architect, plan, 1st floor, partitions), 1234-A-S-055.dgn (project #1234, architect, section, sheet 055), A-S-xx-AA.dwg (architect, section, full building, section AA), A-P-x-Grid.dgn (architect, plan, all floor, grid), 1838-S-C-P-03 (project 1838, structures, building C, plan, 3rd floor).
Scales
There is a set of scales that are used in all the CAD software. This scale forms uniformity in whatever CAD drawings and models are produced. Examples of scales are:
2:1, 20:1, 200:1
1:1, 1:10, 1:100
1 in = 1 ft
1⁄2 in = 1 ft
3 in = 1 ft (QUARTER SCALE)
6 in = 1 ft (HALF SCALE)
1 ft = 1 ft (FULL SCALE)
Standards for External references
While making CAD drawings, a lot of external references are used which helps in saving time. Applying them in the wrong forms can cause problems. 'Circular reference" is something that causes the most trouble. Hence, maintaining standards and putting this reference is important.
Line thickness
The line thickness of the drawing is one of the most important points of the technicality that needs to be seen while creating the drawings.
The thickness that is for pens and plot is 0.13 mm Gray, 0.18 mm Red, 0.25 mm White, 0.35 mm Yellow, 0.50 mm Magenta, 0.70 mm Blue, 1.00 mm Green .
AutoCAD software the parts that are usually in black are drawn in 1 to 7 basic colors. Color layer: Green-Center, Magenta-Measure of length, and Blue-Hidden.
Annotation standards
Annotating specific texts in the drawings is a part of proper execution. The sheets have a different kind of style, fonts, dimensions, and orientation. These standards add to the visual effects.
Text and dimensions
The font style, dimensions, font size also matters in the CAD drawings. The software automatically generates the required ones, after it is put in work.
This is the general standard for this:
Heights: 2.5 mm, 3.5 mm, 5.0 mm, 7.0 mm (stroke thickness (line weight) should be 0.1 of the character height). Font styles: "Romans.shx – Romantic Simplex", "ISOCPEUR.ttf". Exceptional use of screen fonts (Arial, Times New Roman, etc.).
Standard for structure of documentation
Templates for CAD drawings:   'Seed' files are set up for systematic arrangement of drawings. This helps in producing faster results.
Data libraries: Design information of various projects are stored in large libraries. Information can be retrieved from it whenever required. This information is of a standard form.
Structured documents: Documents are created in a way that details of a company are presented in order for CAD production.
Why is it necessary to have CAD standards?
1. Improves productivity
Working according to CAD standards means an effective process of working. This also means that the functions would be carried out effectively as it would increase the productivity of the people working on the projects.
2. Increases the building quality
AEC standards are utilized while constructing a building. The standards formed help in architectural, engineering, and construction works. This furthermore helps in better and quality designing of the building.
3. Better cooperation
CAD standards generate coordination and cooperation. With these standards, there is a better understanding of the different systems working on it.
4. Proper documentation
By having CAD standards the documentation process also becomes easier. There is an integration of the documents so that everyone involved in a project can access it according to them.
Advantages of CAD standards
For management:
Quality of product increases
The productivity of employees increases
Adaptability increases
The time frame of deadlines decreases
Labor costs decreases
For contractors :
Reduced rebuilding costs
Clarity of design and accurate blueprints
Reduced lower cost
Better communication between designers and architects
Avoids any occurring flaws
For project designers :
Data can be accessed quickly
Error-free projects
Easier transfer of data
Better and quicker workflow
Flexible deadlines