BIM (Building Information Modeling) is becoming important worldwide and even the mandatory process to ensure the planning, design, and construction of buildings is highly efficient and collaborative. Read on to find out what BIM is, how BIM is used, and what the BIM level means.
What is BIM?
Building Information Modeling (BIM) is an understanding 3D model-based method that gives architecture, engineering, and construction (AEC) experts the insight and tools to more efficiently plan, design, construct and manage buildings and infrastructure.
BIM or Building Information Modeling is a method for planning and managing information on construction projects. One of the major outputs of this process is the Building Information Model (BIMs), which is a digital description of every aspect of a constructed property. This model draws on the information collected collaboratively and is updated in the initial stages of a project. Creating a BIM model enables people who interact with the building to optimize their operations, resulting in greater value of the entire life for the asset.
B = Building
Let me clarify one thing that "building" does not mean "building" here. BIM is not just used to design a structure with four walls and a roof but can be used for more than that. The word "building" here relates to its roots, you can mean "house" in an etymological sense. The BIM must be taken to refer to the verb "to build" in the sense "building".
BIM is a method that includes the work of building something together, whether it associates with architecture, civil engineering, infrastructure, landscaping or other large-scale projects.
I = Information
Overall, BIM refers to the process of all parties involved in the creation and lifecycle management of assets created, working collaboratively and sharing data. And that information is embedded in every aspect of your project. This has great significance in making the BIM smart. Every project needs information from price to performance rating and estimated lifetime. This is very helpful in tracking potential issues over the life of your project. It is easy to keep track of everything with BIM because it is a way to get all these details in one place.
This data helps to improve accuracy, communicate design intention from office to field, improvement in the knowledge of understanding of stakeholder, reduce the chance of error and field coordination issue. BIM data can help to provide penetration toward existing buildings for later renovation projects.
M = Modeling
Each project is created twice in BIM. First time to ensure that everything in a virtual environment and the second time in a real environment to bring the project to life. It is an overview of every other aspect of the building. This provides the model and measure details for the building project.
This model can be a tool for the owners to refer to after construction is completed. It is also helping to properly inform maintenance and other decisions. It is layers of detail information that show the building's every detail.
What can be done with BIM?
"BIM will only enable you to build what the construction industry enables you to build"

Benjamin Marks
The technique is the one in which the process is considered more than the product. A different type of building than that can be constructed correctly. BIM is a growing technology. However, we are all still engaged in shaping this tool, and we should keep this in mind because it will shape the cities in which we live.
Blueprints to CAD to BIM
For CAD users, the BIM may seem like a completely new and scary thing. Although, it has been a long time since the transition from CAD to BIM has taken place.
As we all know that earlier blueprints and drawings were used to convey information about any particular building plan. But it was very difficult to visualize the dimensions and requirements in 2D drawing. Then came CAD (computer-aided design), used by drafters to create digital plans and drawings. Later, 3D was also introduced in CAD which led to more realistic visuals for the blueprint. Now it has come to BIM (Building Information Modeling) which is considered more than just a 3D model.
The industry has moved beyond CAD, just relying on 2D symbolic documentation and adopting design in the context of 3D modeling. 3D models and BIM Data allow buildings to be analyzed and optimized for performance, used to keep costs under control, provide immersive virtual reality experiences and photorealistic rendering and animations.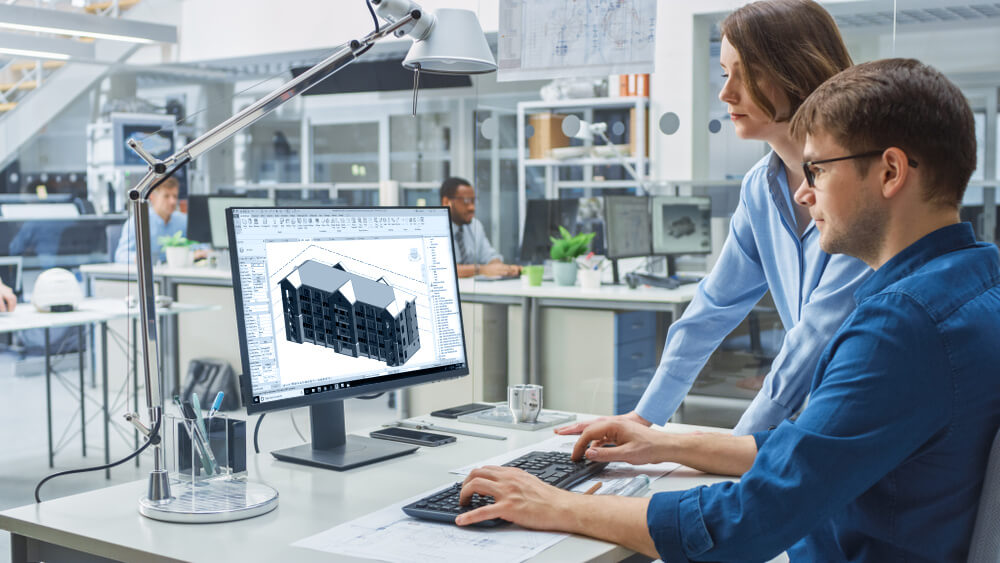 Why has the use of BIM become necessary?
Because of the overall benefits. It has established goals and purposes that are advantageous to all those who perform their work by levels. Certainly, the future of construction will be highly collaborative and digital going forward. As BIM often becomes more advanced, 4D, 5D and even 6D will be a part of the BIM process. Besides, there is an effort to reduce waste and error in construction worldwide. Much of it is connected to provide the chain incompetence, clashes, and reworking. All of this becomes much less likely, setting the stage for a better tomorrow by working collaboratively in a BIM environment.
Bottom-line
BIM is both a process and 3D modeling software. This allows architects and engineers to work on the same project from anywhere in the world. This work shows a plethora of information about every detail. It facilitates testing and analysis to find the best answer to every problem during the design phase. The infrastructure we are building today will be for a very long time. At IM电竞登录 Our vision for BIM Outsourcing services is to empower AEC firms, owners, and agencies to focus not only on infrastructure but also on where and why.